As a Pure Graze Coach I went to visit a farmer following the report that little had been done with the overseeding of saladebuffet herb-rich.
On arrival I was warmly welcomed with a coffee and the statement was made by the farmer "It is not even worth looking and it is wasted money"
After a smooth chat I wanted to go and have a look and we went together in the meadow where the young stock of the White Blue breed is located. To the farmer's surprise, there was a very large share clovers and herbs in the field.
He added: 'I have to admit that I haven't come here for a long time because I assumed it had failed'
After assessing all the plant species in the Saladebuffet, we looked at the cattle and the comment came up; "They have it good here, because they don't even come to the barn for extra food"
The conclusion of the story is that you sometimes have to be patient and give the seeds the chance to germinate and develop.
The farmer is now convinced of the Saladebuffet and will soon be converting an existing meadow into a beautiful herbal leys of Saladebuffet kruidenrijk.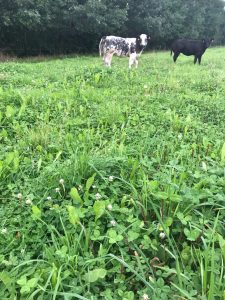 Regards,
Tuur Vandeweyer
Pure Graze Coach
Zuid Nederland – Vlaanderen
Interested in what the Pure Graze Coaches can do for you, please contact them!
Contact:
North-East Netherlands:
Alfred Brinks
E-mail: abrinks@puregraze.com
West-Central Netherlands:
Jelle Hakvoort
E-mail: jhakvoort@puregraze.com
Southern Netherlands and Flanders:
Tuur Vandeweyer
E-mail: tvandeweyer@puregraze.com