Pure Graze has started offering PG Nxt-STEP®® Farming. This is a nature-inclusive business system that has been successfully applied in practice for more than 30 years and results in an income increase of up to 58% (WUR) and a CO2 eqv. emissions reduction of up to 92.5% (RISE analysis). PG Nxt-STEP® Farming has been converted into an online training program for the future-oriented dairy farmer, with a focus on reducing emissions, cost price, work pressure and increasing family income.
The focus is on maximizing the grazing through Management Intensive Grazing, a spring calving herd and the reduction and elimination of fertilizers and fertilizers concentrates. In doing so, the system increases the biodiversity through the use of productive herbal leys; this also improves the natural health of animals and improves soil life.
The online classes consist of video presentations, background information, webinars and practical meetings. Knowledge is exchanged with fellow students via a forum. There is also an extensive knowledge base and library. Support to the students is provided by farmer coaches. These are practical livestock farmers who themselves apply the PG Nxt-STEP® Farming system to their dairy or meat farm. They assist their fellow farmers with practical advice in the transition to a financially sustainable business model.
Grazing Course:
At the end of September Pure Graze met een nieuwe beweidingscursus "Weiden in het najaar", met begeleiding van boerencoaches.  De beweidingscursus is een goede eerste tussen stap naar het verlagen van de kostprijs.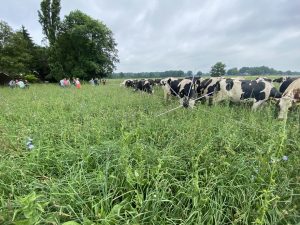 Onderdeel van de beweidingscursus is Management Intensief Grazen, een verbeterd beweidingsysteem afgeleid van strip-grazing.
Ado Bloemendal from Pure Graze; "We have already received the first results of the grazing course that we are currently holding. 1 of the participants saves around €45,000.00 this year by adapting his grazing system to Management Intensive Grazing. He achieved this saving by reducing the concentrate dose by 5 kg per cow per day."
Photo taken during the 3rd practical meetings of the Grazing Course July 2021.
More information can be found on our website www.puregraze.com or call 0546-624005.